With the book Vintage Paua Shell Jewellery launched and the exhibition Vintage Paua Shell Jewellery from the 1930's to the 1970's now showing at Objectspace, 8 Ponsonby Rd, Auckland, it is time to concentrate on the @ Object Gallery website. (Objectspace is closed this week for the installation of the exhibition Ruth Castle: Basketmaker, which opens on Saturday 3 October.)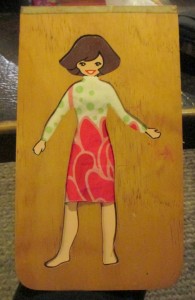 @ Object Gallery we re-imagine and re-interpret material culture, in particular those objects that are suffering from neglect, abandon, oversight, misrepresentation, stereotyping and down right abuse. We propose not only new ways of treating such things but also new ways of seeing, aimed at exploring how objects that are no longer desirable or in demand (let alone in fashion) can be adapted, adopted, exposed and juxtaposed, to be reintegrated as worthwhile players in contemporary material culture.
Stories about things lost, faded, broken, mismatched or discarded need to be told; transformations and crafty interventions to be documented; their provenance established or imagined before they can re-claim their place in the material world of  things.
Reading back this all sounds rather serious but it won't be. Used to academic writing or for publishing, my musings for this blog will be a lot more fun and hopefully flow well enough to post on a regular basis.
Soon I'll introduce you to the team here @ Object Gallery – we're still trying to sort who does what. We're negotiating a regular op-shopping column where special finds will be covered and insights into where to shop will be shared. Also up for grabs is the column on what's happening out there – family, friends and special people who (re)create amazing things out of waste materials, random bits and pieces and associated clutter. Not sure how it will all pan out but ready to give it a go – so stay posted and enjoy – xe